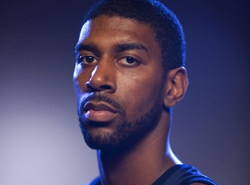 Team USA is scheduled to announce their first trimmings from the roster in a few hours, but Chris Tomasson of NBA FanHouse reported that Gerald Wallace, Tyreke Evans, and O.J. Mayo are "expected to be" among those cut from the team this afternoon.
Evans was an obvious cut. After tweaking an ankle early in Team USA training camp, 'Reke never had a chance to show off his skills or establish on-court chemistry with his new teammates. He was a long-shot to make the roster from the very beginning, but without an opportunity to play himself into consideration, Evans was a goner.
Jerry Colangelo and Mike Krzyzewski appear to prefer Danny Granger to Gerald Wallace at this point, because according to Mike Wells of the Indianapolis Star, Granger will continue to on to New York with the team while Wallace will be sent home. Wallace may have been able to bring a defensive presence that's lacking elsewhere on the roster, but Granger has the potential to be a rather prolific shooter for the Americans, an invaluable asset in FIBA-style basketball.
Similarly, the Team USA brass had a choice to make between Eric Gordon and O.J. Mayo, and they chose the former. Mayo's the more versatile player overall, but most of what he can offer outside of his position's usual skill set is already being provided elsewhere. Mayo could definitely run an offense more effectively than Gordon, but with a team already stuffed to the brim with point guards, that doesn't mean much. So it came down to Mayo and Gordon as shooters and defenders, and while I'd still give the edge to O.J., Krzyzyewski seems to prefer Gordon in that role.
Team USA's original plan was to cut four or five players from the current pool before moving on to NYC to resume camp, so there could theoretically be one or two more players sent home. However, there's the possibility that Colangelo and Krzyzyewski will keep 16 in the fold until the final roster is announced, leaving Evans, Wallace, and Mayo as the only initial cuts.