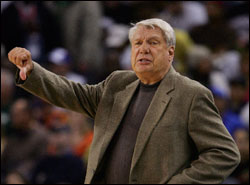 Joe Lacob isn't technically the co-owner of the Golden State Warriors yet, but he's already making a hell of an impression. From Marcus Thompson of Inside the Warriors:
Lacob said what everybody else already knows: the Nellie era is
done. And Lacob said in the interview that he wants a young coach in
the new era (he listed Oklahoma City coach Scott Brooks as an example).
But the question he has to answer is when will the era end? Now? Or
after this coming season?

What makes the decision difficult is
that he can't make the move until he becomes owner of the team, which
he said he's hoping to be officially by late  September. (Though, he
said outgoing owner Chris Cohan has obliged him since the sale
agreement. If he wanted Nelson gone, couldn't he just tell Cohan to
fire Nellie and hire the guy he wanted?) If that is when he gets
ownership, that's about the start of camp and a month before the season
starts. Is that too late to make a coaching change?
Maybe, maybe not. Regardless, is there any real benefit to having Nellie serve out his term as a lame duck coach? With the Warriors unlikely to compete for a playoff spot in the West with their current core, wouldn't it behoove them to get an actual developmental coach in as soon as possible? For teams positioned as such, training camp is important, but not essential. Establishing momentum for the season is a pipe dream. Golden State will continue to struggle, and the only way to facilitate their hopefully eventual success is to introduce the new era as soon as possible.
Regardless, it's nice to know that Lacob isn't fooling around. He isn't awe-struck by Nellie's win total, and fully intends to hire a new coach as soon as possible. This is the fresh start that Warriors fans deserve, and though they'll have to wait until mid-season (at the earliest) to really begin anew, change is a'comin'.