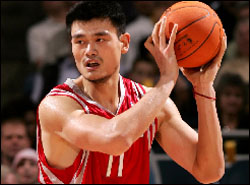 From the Associated Press, some dreary news:
In comments to Chinese state media Monday, Yao sounded far from
optimistic about his future and also made a rare criticism of China's
national basketball program.

"If the foot injury does not heal next season, I might choose to call it quits," he said.

Yao
turns 30 in September and missed last season following foot surgery. He
is set to return to the Rockets after deciding not to opt out of the
final year of his contract. Though he has said his recovery was going
well, the Rockets have signed 7-foot veteran Brad Miller to share the
work at center.

Yao, who was in China for charity events and
remains wildly popular in his country, all but ruled out playing in the
2012 London Olympics.

"The chance is very small," the 7-foot-6
center was quoted as saying by the official Xinhua News Agency. "The
foot injury will not allow me to play so many games anymore. Like I
said before, I will quit the national team and the sport one day. It's
what happens to every athlete."
With Yao out of sight for so long, it's easy to forget just how good he's been. Andrew Bogut had an incredible '09-'10 season, but if Yao had done the same? If he had the same production, and been as good as Bogut was defensively? It would have been just another good year for Yao, and probably not good enough by his lofty standards, to be honest.
Yao is one of the top centers this NBA era has produced, and while it's easy to forget that when he's sitting out seasons at a time, don't. He's too good to be forgotten now or ever, and I fear that if he does end up retiring after next season, he'll be remembered for all the wrong reasons.
Yes, he's a 7-foot-6 behemoth. Yes, he's a tap into a giant overseas market. But Yao is damn good at what he does when healthy or even hindered, and to see him walk away from the game at 31 would be disappointing. Of course he's right in that every athlete has to hang 'em up sometime, but I always figured I'd be able to watch him lumber up the court to drop baby hooks and swat shots for a few more seasons at the very least.
Centers are supposed to age well. They're supposed to play deep into their 30s while continuing to anchor a team's defense. They're certainly not supposed to offer us a good show for seven seasons before disappearing into the night, with their talents never to be properly appreciated again.
Maybe Yao will change his mind, or the Rockets will help him along. Otherwise, it seems extremely unlikely that his chronic foot injury will be fully healed by the end of the season, and thus quite likely that this year will be Yao's farewell tour. I'm not sure how anyone who digs this game could possibly be cool with that. Even if it doesn't qualify as a tragedy, this is still one of the league's top centers bowing out long before he's due, and that's a damn shame.