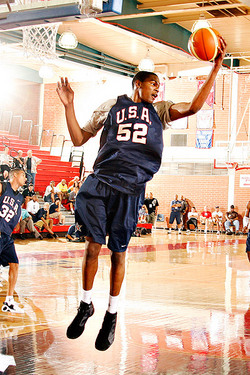 Kevin Durant is the face, the front man, the Bono to Team USA's U2. He is going to Turkey. Russell Westbook impressed at camp in Vegas and is a lock, and Jeff Green may go as well.
That's three players logging a lot of extra practice and games in the offseason. Does that worry coach Scott Brooks? Matt Pinto of the Sports Animal in Oklahoma City asked, and Brooks said not really.
"Well they're definitely going to need some time to just decompress and relax because it's going to be a very high-intensity tournament. It's not going to be easy to win the gold. It's going to take a lot of effort, a lot of energy, but our guys are young and they're excited to play. They're going to play basketball all year long. Kevin, I wanted him to take a couple of weeks off and he took two days off. … There's going to be a little bit of time where I'll say 'OK, you guys gotta rest,' and maybe I can rest them a few days during that month of October, but it's going to be like pulling teeth to get those guys to sit out of things."
Phil Jackson rested Kobe Bryant and Pau Gasol some in training camp when they got back from tough national team stints, Brooks may well do the same. But when that rest is really needed is February — no practices on off days, sitting more fourth quarters when the team gets way up or way down. There are places to rest your stars, if you look for them.
This is a good problem to have — there is so much talent your best players are needed internationally. You need the talent to win. You can figure out the rest thing as you go.