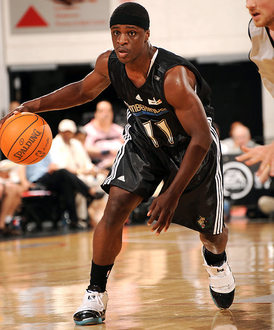 Bet you didn't see this coming: the Minnesota Timberwolves could be short point guards to start the season.
Jonny Flynn, who started 81 games for the Timberwolves last season at the point, will likely miss the start of this season after having hip surgery, according to Marc Spears of Yahoo. Flynn missed Summer League for the surgery.
If Flynn is out for training camp and the start of the season, look for off-season acquisition Luke Ridnour to get the starting job. Which is a good thing. Flynn had no love for setting up the triangle offense and slashed his way into the lane with a 41.7 shooing percentage. He got to the line a little, got the Wolves four assists per game but added three turnovers to that. He wasn't bad, but he wasn't a good starter, either.
Ridnour found his shooting stroke last season in Milwaukee and hit 47.8 percent of his shots, plus shot better from three than Flynn, got an assist on a higher percentage of his touches and had far few turnovers. He was flat out better.
Flynn should be back in the opening months of the season, but he will have to fight to get his job back.
Behind Flynn, the Timberwolves are thin at point guard. They traded away Ramon Sessions and are expected to buy out the contract of just traded for DeLonte West. Reports out of Minnesota suggest they plan to buy out the full deal of Sebastian Telfair as well, which seems odd, especially now that they need another point guard. Would be smarter to keep him around for that overpriced $2.7 million contract Kevin McHale signed him to. Ricky Rubio will not be much help either, he has another season in Barcelona coming.