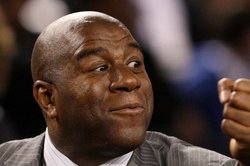 San Francisco is cold in the summer. Mad Men is the best show on television (and is best enjoyed with a scotch in hand). BP will be the butt of late-night talk show jokes well past when it is funny. Justin Bieber is annoying.
Some things are just givens. Same with this: Magic Johnson, part owner of the Lakers, thinks the Lakers will win the title next season.
Anyone alive not see that one coming? But while he would never team up like those three did (yea, right), he does think the Heat's day is coming, as he told the Los Angeles Times.
"The Lakers still have the most talent," he said. "They're the best team in the NBA."

But that could change in a year or two, Johnson suggested. He said Miami needs at least a season for its new roster to get used to playing together. Mainstays such as Wade, guard Mario Chalmers and forward Udonis Haslem remain, but seven new players have filled out the roster with another spot open.

"You've got to remember they're going to have [eight] new guys," Johnson said. "They lose this year; Lakers win. I think that team may win two or three in a row" later.
Maybe the only interesting thing Magic said was that the Lakers push to sign Steve Blake and Matt Barnes as roster upgrades, that they knew they needed to be better this season. Makes sense, although the thing that would make them a really tough matchup for the Heat is a healthy Andrew Bynum come the playoffs. Which one can wonder if we will ever see, if his knees and body are really built to withstand the beating of the regular season.