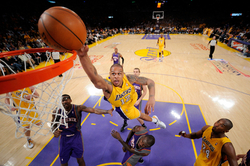 Shannon Brown opted out of a $2.15 million deal for next year, thinking that his role on back-to-back NBA championship teams could earn him a little raise and a longer term deal.
It may not work out that way.
Lakers General Manager Mitch Kupchak told the Los Angeles Times he still wants to sign Brown. However with the signing of Matt Barnes the Lakers are under no pressure to up their offer. What Brown sees is what they likely will get from him.
"I do feel good about signing back Shannon Brown right now," Kupchak said. "It's not going to go on for the whole summer. I would guess in the next week to 10 days we'll have a resolution. That's my guess."
The Cavaliers still have interest in signing Brown as well, according to Ben Q. Rock. There may be other teams with some interest as well.
But nobody is jumping over themselves to sign Brown, which means the money and years he gets may not be anywhere near what he hoped.