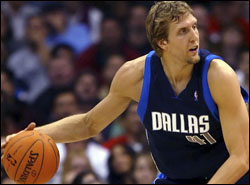 Nobody thought Dirk Nowitzki was going anywhere. He was technically a free agent but he loves Dallas and Dallas loves him. Especially Mark Cuban, and he had the biggest vote. So this was all a fait accompli…
Or not. Nowitzki said he would have listened to offers where teams were closer to a title than Dallas, at least that's what he told German reporters outside the Berlin Niketown where he was being honored.
And he would have taken any calls from LeBron James. The Dallas Morning News found this interview in the German basketball publication Crossover (during their daily perusal of German sports pages over morning coffee, we would guess).
I would only be changed (from Dallas) if it was an incredible situation when really what would have been offered. When would now be asked, for example, Wade and LeBron me, 'Hey, right on time, you come to Miami? That would have been a situation where I would have to consider sharp. But all other situations, since I do not need change, change only. The situation in Dallas is still very good, and there would already have revealed something unbelievable. The problem is that no one could guarantee me the championship.
Of course, the Heat have gone with Bosh at the four, not the most polished of inside presences but more of an inside presence than Nowitzki. And Bosh is younger. Plus Nowitzki says numerous times how happy he is with being in Dallas.
Still it's a fun hypothetical: Would LeBron/Wade/Nowitzki be better than LeBron/Wade/Bosh?