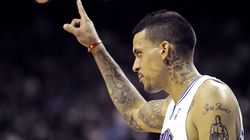 Matt Barnes has an incredible tendency to get on his opponents' nerves, and it's easy to understand why. Barnes never stops talking. He's no stranger to the hard foul or the occasional cheap shot. He holds, he pushes, he yaps, and he plays hard. That's not the kind of thing that makes for an ideal opponent, and it's safe to say that during his time with the Magic, Barnes got under the skin of a few notable Lakers.
All water under the bridge, as time — or really, free agency — heals all wounds. Barnes, while on Into the Night with Tony Bruno on Fox Sports Radio, had this to say about his current relationship with Bryant (as transcribed by Sports Radio Interviews, link via Marcel Mutoni):
"Kobe has been the driving force behind this.  I have been talking to Kobe back and forth like we were boyfriend and girlfriend for the last two weeks and sending us texts and talking.  It feels good when you have the best player in the world in your corner and Kobe is definitely in my corner.  He sent me a crazy text message today saying something like, anyone crazy enough to mess with me is crazy enough to play with me.  So I think that was a good tone to set and I think I am ready to be a Laker."
These are good times in Los Angeles. Andrew Bynum is on the mend, the Lakers picked up a few helpful free agents to add to their championship core, and Bryant and Barnes have been texting sweet nothings to one another late into the night. We knew the Lakers were going to be good next season, but throw in Barnes for good measure, and L.A. has a much-improved bench.