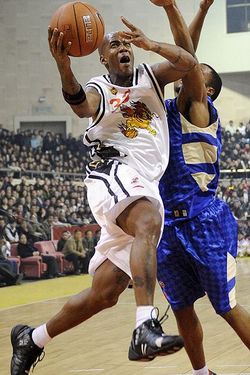 So maybe Stephon Marbury isn't as far out on the crazy bell curve as we thought last week. Oh, he's still a few standard deviations away from the norm, but he's not lost all grip with reality.
He says that he did not turn down a chance to play with the Heat and very much would still like to play for them, it's the Heat that have not gotten back to him. We know this because it turns out the New York Post is more reliable than the Chinese media.
"It's total nonsense, why would I turn down a chance to play for the Miami Heat?" an irate Marbury told The Post from Beijing. "The report was a fabrication…"

Marbury's point to the Chinese journalist was that a point guard is not essential on that unit because James and Wade handle the ball so much and he would be taking on a small role in their success, as opposed to his status in China.

"What I was saying was I wouldn't be making a major difference with those guys because they have great players," Marbury told The Post. "I'd just be filling a smaller role. Miami was considering bringing me there. They told me they'd get back to me. I haven't heard back."
Marbury said the Chinese reporter mixed up the translation.
Marbury is expected to play with Shanxi in China again next season.