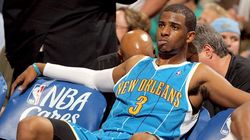 Chris Paul had a meeting today with representatives from just about every important aspect of the Hornets' operations, with the intent to iron out exactly why Paul wants to be traded and what he wants the Hornets to do about it. The meeting could easily be seen as a formality while Paul takes strides towards the door, but the meeting appears to be surprisingly positive for New Orleans.
Here was Chris Paul's response to the meeting via Twitter:
"The meeting went well.  It was great to get an opportunity to sit down
with Coach Williams, President Weber and our new General Manager Dell
Demps. I expressed my desire to win and I like what they said about the
direction that they want to take the team.  I have been a Hornet my
entire career and I hope to represent the city of New Orleans and state
of Louisiana for many years to come."
As Marc Stein of ESPN.com noted, it's silly to think that Paul's perspective has completely changed as a result of one meeting. Hornets GM Dell Demps claims that Paul didn't demand a trade during the meeting. Maybe that's the case. Or maybe any public trade demands would get Paul fined, even if channeled through the team first.
This could be perceived as something vaguely resembling progress for the Hornets, who aren't going to give up the league's top point guard without a fight. Even if today's events are only delaying the inevitable, New Orleans has possibly bought themselves some time as they attempt to smooth things over with Paul.
Then again, according to Adrian Wojnarowski of Yahoo Sports, nothing has changed. So we don't really know anything now that we didn't know before: Paul seems interested in a trade, the Hornets want to keep him, and the two will continue to play this game until things are decided one way or another.