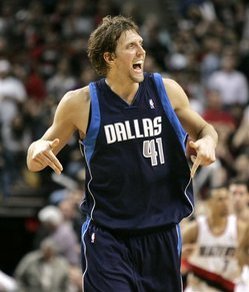 Orlando may be the most natural landing spot for Chris Paul should he be traded, and New York the most glamorous. Yet Dallas was also included on Paul's list of preferred destinations, and while the Mavs don't have a ton of young, proven talent to sweeten the pot, a trade with Dallas could make all kinds of sense for New Orleans.
Between Tyson Chandler, Caron Butler, DeShawn Stevenson, and J.J. Barea, the Mavs have about $29 million in expiring contracts to throw the Hornets' way. Add in 22 year-old dynamo Rodrigue Beaubois, cash compensations, and a few draft picks, and you have the makings of a pretty interesting financial package that would allow the Hornets to virtually clear their cap by ditching the contracts of Emeka Okafor and James Posey.
Even if you don't believe in the Mavs' ability to get a deal done, Dirk Nowitzki does. In an interview with Welt Online, Dirk noted that (according to a loose translation) "Mark [Cuban] will certainly put everything in motion [in an attempt to get Chris Paul]," (link via DallasBasketball.com).
That doesn't mean New Orleans will bite or even that Dallas could put together the most attractive trade package, but Nowitzki clearly has faith in Cuban's thoroughness. Even if the Mavs don't have the pieces necessary to make a deal possible, Dirk can at least find some comfort in knowing that his owner is willing to explore all possible roads that could lead Chris Paul to Dallas.