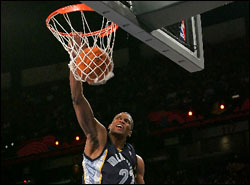 When the Memphis Grizzlies raced out of the gate to offer Rudy Gay a max deal (five years, $84 million) on the first day of free agency, it was as shocking as seeing a good new episode of Entourage. Nobody saw it coming.
That includes Rudy Gay, as he told Chris Mannix of Sports Illustrated.
"I was surprised," he said. "Actually, I was really surprised. When I found out they did that, I was like, 'Wow.' "
More money means the expectations game changes for Gay. He goes from being the "he'll be special if he can get it all together" to being the "he's making max money, what is wrong with him?" guy.
Gay is a slasher, but he needs some consistency beyond 15 feet now. Gay scored 19.6 points per game last season for the Grizzlies but needed 16 shots a game to do it — he has got to become more efficient.
Memphis was everybody's favorite little surprise last year, but this year they will not surprise anybody. They added some depth with Tony Allen and draft pick Xavier Henry (if they ever stop playing around and sign him). But it will come down to player improvement, and Rudy Gay will now take too much blame or get too much credit for what happens. It comes with the max contract (down in the fine print).