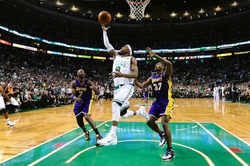 With a deep backcourt that includes Chauncey Billups and Russell Westbrook, there were questions about Rajon Rondo on Team USA. Basically, how would his game translate to the international stage? Could his lack of a steady outside shot cost him?
And was he really committed to the team after seeming to waffle on his commitment?
On the first part, Rondo told Sports Illustrated it was not about his willingness to play, it was about his body after a long season.
"It wasn't that I didn't want to be here," he said. "It's the wear and tear on my body. I played [105] games last year. I was pretty banged up after the season. It was the same thing the last couple of years. I'm young, which is probably the only reason why I'm here. If I was a little older, I probably wouldn't have done it."
As for how his game translates — Rondo has been one of the standouts in camp. He makes good decisions in transition and with a young team that can run he gets a lot of opportunities. He likely will be headed on to New York, where 15 players will go to compete for 12 roster spots next month.