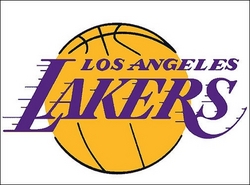 Theo Ratliff was introduced to the media today as the newest Laker. He's excited. Can't wait to play for Phil Jackson. All the usual stuff.
But General Manager Mitch Kupchak gave some far more interesting insight into the Lakers plans with his comments (as reported by the rockin' official Lakers blogger Mike Trudell):
"We're still talking to Shannon (Brown). There's a good chance that in the next couple of weeks we can have some resolution with Shannon. I'm optimistic. If that does come about, that would be the fifth guard, yes."
Basically, the Lakers have an offer out there, Brown's agent is trying to find something better.
"And Matt Barnes was not something that we planned on weeks ago. Free agency is kind of topsy-turvy for a player sometimes. I'm not sure even he knew where he'd end up, but it came about quickly. In particular with Luke Walton's health issues, we felt adding a player like (Barnes) would give us great insurance at the position.
It is possible Luke Walton will miss much of next season with back problems, Kupchak said. Which is an unfortunate family legacy right now.
"It's not the run of the mill type of back problem, it's unique. We don't know where it's going to end up. He's a gamer, he loves to play and wants to be a part of the team. He'll do whatever it takes to get back on the court, so that's a positive, to have a player that's motivated to get well. That's not always the case."
The Lakers likely will sign and keep Devin Ebanks and Derrick Caracter, their second round picks from this year. That would give LA 14 guys on the roster, although 13 in practice until Walton can return.