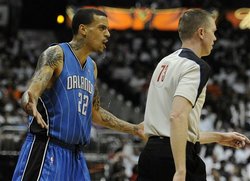 The Lakers are two time defending NBA champions. And when they tip off next season, they will have improved. Chew on that for a second, Miami.
The Lakers got better at the wing by signing Matt Barnes on Thursday night. The Lakers could offer only $1.7 million this year, next year it would be $1.9 million but Barnes will have an opt out.
Barnes turned down more money, a reported $3.5 million a year for three years from Cleveland. He certainly would have gotten more playing time. But if Barnes was not going to play for a contender, he wanted even more money.
Barnes is coming home — he went to UCLA in college, where he may have been a better wide receiver than a basketball player. Maybe not, but it was pretty close.
The Lakers will now bring Barnes off the bench on the wing, spelling Ron Artest and Kobe Bryant, giving the Lakers some toughness and defense off the bench. Barnes is not a good a defender as his reputation, he shot only 32 percent from three last season. But he plays within himself, can attack the rim, get out and run and makes good decisions.
He also fits with the Lakers theme of versatility. They like guys who can play multiple positions, allowing them to create a host of matchup problems. Barnes can play the two or the three. He is long and athletic.
If the Lakers had a weakness last season, it was that their bench was Lamar Odom and a prayer. Now Steve Blake will come in and be a step up at the one from Fisher, and Barnes can come in at the wing, while Odom will be the four. Basically, the Lakers are eight deep with really good players, plus they have Luke Walton and Sasha Vujacic.
The Lakers are better. That is scary for the league.