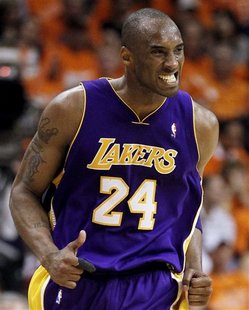 Kobe Bryant had  his knee drained during the first round of the playoffs, and immediately afterward had some of his best games. In classic Kobe fashion, he tried to play it off as nothing ad played through it the rest of the way. However, it pretty clearly bothered him.
Last week he had his knee "scoped," the Lakers announced today. Kobe will be back ready to go at training camp at the end of September, the Lakers said.
Kobe has now had three surgeries on that same right knee. This was simply arthroscopic to clean up irritants, but surgery is still surgery.
Andrew Bynum will have surgery on his knee next Wednesday. He also is expected back and healthy for camp. But Kobe's and Bynum's knees will be something to watch as the long grind of the regular season wears on.