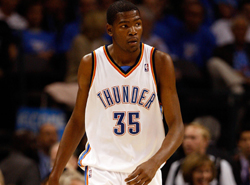 It wasn't what Kevin Durant did this summer that was a surprise. Everybody knew Oklahoma City was going to offer him a max extension, and everybody knew he was going to sign it.
What made it news was how it was handled was such a contrast to the other big free agent moves this summer. Durant stayed with his team, didn't make a spectacle of himself and announced the deal quietly on twitter. As much as anything is quiet on twitter. Bottom line — Durant was everything LeBron was not.
Durant himself hasn't even spoken much about it publicly, but he put his thoughts up on his blog today about the process. It's all very Durant.
First off, I've always said that Oklahoma City is a place I want to be and I couldn't imagine not playing for the Thunder, especially with these great teammates and coaches and support staff. So when I got approached with a contract extension once negotiations could start, signing it wasn't a very hard decision. It was really a no-brainer. If people were paying attention to what I've been saying for the last three years, then they'd know my heart has always been with the Thunder. This organization has been moving in the right direction since the day I got here.

Now as far as announcing my signing through Twitter…..c'mon, what else would you expect?!?! You all know how much I love Twitter and Facebook and social media in general. I've met so many fans through social media. That's how a lot of us athletes connect with fans in this day and age. I love giving out free tickets or Nike gear and answering all your questions, even the crazy funny ones. So I didn't think twice to announce my contract extension through Twitter. I wanted to make sure all my fans and supporters were the first to know, and most importantly to get the news straight from me!

Now, the friends and family and fans who know me weren't surprised that it's how I let everyone know. But some people keep asking why I didn't announce it on national television or something like that. I really get a laugh out of that. I keep telling people how my situation was much different from all the other big names out there. First of all, I was just up for a contract extension. LeBron, Chris Bosh and D-Wade, those guys were unrestricted free agents, so there was more hype with their decision, more people who wanted to know what was gonna go down. That's a big difference.

And as I told someone the other day, LeBron James is the biggest name in sports. Nothing he does is ever going to go quiet. You can't blame him for what happened and how he made his decision. Again, my situation was totally different.
It was a very different situation. And they are very different people.