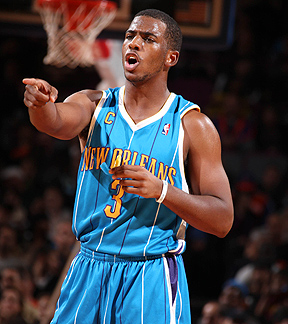 If you're a team interested in trading for Chris Paul, don't send your request to the New Orleans Hornets, they're not interested. Paul has two years left on his deal and the Hornets want to keep him.
Send it instead to Leon Rose, Paul's agent with Creative Artists Agency. He's the one listening to offers and trying to set up a deal. You can also go through back channels with William Wesley to get a deal set up.
That's really the state of this with Paul.
Monday Paul is going to sit down with members of the Hornets front office, including new general manager Dell Demps and new coach Monty Williams. And the Hornets will be serving plenty of Kool-Aid — "we're going to build a contender here with you as the centerpiece." "You are the heart and soul of this franchise."
And Paul's first question should be, "Who is going to own this team come the start of the season?" Is it George Shinn or Gary Chouest? If the Hornets can answer that — and they may not be able to — the next questions are about how much they can and will spend. The Hornets have reportedly tried to make deals that dump salary this summer, not add players.
Paul wants to win, and win now. He can see that future in New York or Orlando or Portland or Dallas, but not in New Orleans. He has gone off like Kobe did 2007, but the Lakers actually had some pieces (they had Andrew Bynum and were not going to trade him for what's left of Jason Kidd) and some expiring deals they could turn into players. And the Lakers could spend — Los Angeles has always been profitable, and the team generates a lot of revenue. The Hornets are not a team deep in the black.
The Lakers could wait Kobe out. The Hornets say they are not trading Paul, but can they afford to wait him out? How will Paul's request impact revenues?
Paul's agent Leon Rose is not waiting. He is the one fielding trade offers, according to a story in the Times-Picayune.
"No one from our camp has said that Chris demanded a trade," a Paul confidante said Thursday. "But they (Hornets) have not put themselves in position to win this season. We have the same team as last year, basically. The only thing that matters to Chris is winning."

"Are they even calling guys and trying to get them to play?" the source said. "We would have loved to hear that Mike (Miller) had narrowed his choices down to the Hornets and Heat. But we're never in the running for players."
Which in the end comes down to ownership. Which remains unsettled in New Orleans. And until that situation is settled, Paul can be as frustrated as he wants there will be no good answers.