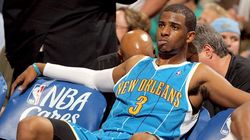 In 2007, the Spurs won their fourth title inside of a decade. They defeated a LeBron James-led Cavs team that featured Sasha Pavlovic as the fifth-leading scorer on the team. The arguable second-best team was the Phoenix Suns who would immediately begin a spiral based off of the hyper-reactive initial moves of Steve Kerr. The Mavericks were in there, with Josh Howard as a pivotal component, a player who now has yet to secure a team for next season.
The Spurs were masters of overcoming odds but were not considered dominant, despite their jewelry. There was parity, there was dilution, there was no true superpower.
And then the arms race began. In reality, we can trace all of this back to Joe Barry Carroll.  Carroll was such an attractive first round pick that the Warriors traded the rights to the third-overall pick to Boston. While Carroll would wind up flittering in and out of the league and Italy, the Celtics would use that third-overall on Kevin McHale in 1980. 27 years later, McHale would trade Kevin Garnett to the Celtics for a platter of players, the crown jewel of which was just traded for a series of late first-round picks.
Boston acquired Ray Allen and Kevin Garnett to go along with Paul Pierce. And a new superpower was born. The Celtics' power was pretty evident from the start. Torching the league up and down. Until the new year. The Lakers, having barely survived a near-Kobe-trade-demand meltdown realized that they had to improve. That good wasn't good enough. And then somehow, the Grizzlies helped create Voltron 2. With Pau Gasol in place, the Lakers immediately became #1a in the league. This was in addition to Andrew Bynum, Derek Fisher, and Lamar Odom, mind you. Later, the Celtics would add Nate Robinson and Rasheed Wallace. The Lakers would add Ron Artest for the MLE.
Good? Good was now average. Great was now "pretty good." And elite was the standard.
And that's how it went for three years. The Cavs would try and add value players without ever going for the home run. The Nuggets and Mavs would each make moves they thought would bring them to the elite level. More and more you'd hear the phrases "what they need to beat the Lakers/Celtics." It was no longer about building a complete roster, it was imperative to get as much size and as much talent. That's always the goal of building a team, right? Previously the idea was one superstar, one supporting star, and then role players. Now you needed multiple superstars just to compete.
Which brings us to this summer. After three years of watching teams with that kind of starpower win titles while they wallowed with one-star teams, Chris Bosh, Dwyane Wade, and LeBron James elected to no longer stand by and watch other teams go to battle with that kind of firepower. They combined their forces and now have a team that should challenge those other elite teams. (Boston has to get old at some point, right? Right? Right?!)
And sure, the world hates them. Chicago. New York. New Jersey. Especially Cleveland, with the fire of a million suns. But past the terrible PR moves and the horrendous decision making and the woeful soundbites is a sense that these three aren't trendsetters. They're not doing anything unheard of. They're simply taking the game they've been handed and upping the stakes.
Which brings us to Chris Paul. Paul has been a model citizen for years. In 2008, with the Hornets pushing the Spurs to seven games, the future couldn't be brighter. But since then, he's watched two things. He's seen his own team spiral into the frustrating position Cleveland and Miami have been, and he's seen three of his best friends team up to combat the team of older veterans he's seen dominate the league. And Paul wants a piece. Paul understands the new world that Boston and LA have created, and wants a piece of it. Paul's not asking for a trade to anywhere with solid collections of talent. He wants to slide into a contender. He's seen the present, and the present means starpower.
Amar'e already made multiple pitches for another Big 3. The Magic are trying to formulate as such. And the Lakers and Celtics are still the favorites, along with the Heat. This arms race is in full swing. Driving up contract prices, making franchises desperate, and forcing small market superstars to position themselves on superteams.
Most blame selfishness, laziness, desperation for the behavior of this group of friends and their multi-star machinations. But in reality, they're simply products of their environment. Chris Pauls' potential trade was put in motion decades ago. You can even start with Joe Barry Carroll.