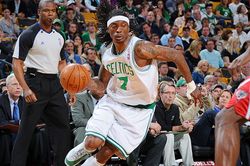 Last year was not a good one for Marquis Daniels in Boston — so he's taking a mulligan.
The Celtics and Daniels have agreed to terms on a one-year, $2.5 million deal. He will be the backup two, and the Celtics are hoping for him to have a better year so he can spell Ray Allen, who is not getting any younger.
Daniels looked pretty good at the start of last season, but then two things happened. First, he injured his thumb, to the level where it required surgery. He was never quite the same after that. And secondly, he never really got the chance to prove it because Tony Allen became the backup wing player of choice.
Now Allen is gone, Daniels should be healthy, and the Celtics are counting on him to bounce back. They need the depth off the bench.