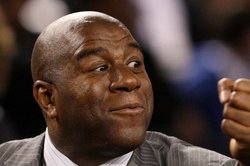 Magic Johnson has done what we all do — we remember ourselves as better and more noble than we really were. We rewrite our personal histories to fit those better selves.
Remember how Magic Johnson agreed with Michael Jordan? How he said the two would never have teamed up with other superstars because they were so competitive? "We didn't think about it 'cause that's not what we were about," was Magic's quote.
Over at TrueHoop in a fantastic post, one reader called Magic out on that, referencing a 1991 interview in the Los Angeles Times where Magic recalls how he came out of college and to the Lakers.
Magic Johnson would have returned to Michigan State rather than play for the Chicago Bulls.

"I'd have stayed in school," he said here Tuesday, standing alone outside Gate 3 1/2 of Chicago Stadium, the house that could have been his. "A coin toss changed the course of my whole life." Chicago called heads in a 1979 coin flip with Los Angeles for the No. 1 pick in the NBA college draft. It came up tails.

Johnson signed with the Lakers after his sophomore year of college and proceeded to win five championships. The Bulls picked second, took UCLA's David Greenwood and have won no championships.

"I wouldn't have played here," Johnson said on the eve of Game 2 of the NBA finals between his team and the team that could have been his. "The only reason I came out was to play with Kareem and the Lakers."
Magic didn't have to go looking for good running mates, because he came onto a loaded team. He helped put them over the top — his Game 6 of the 1980 finals is legendary — but that was Kareem's team. The Lakers only got the top pick via a lopsided trade, they had won 47 games the year before and made it to the second round of the playoffs.
Magic is fiercely competitive, he wanted to win. But no, he never teamed up with other free agents to forma superteam. He didn't have to — he did it coming out of college.