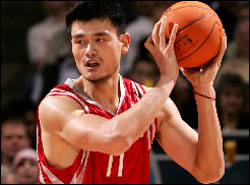 Yao Ming has doubts.
In a refreshingly frank interview with China's xinhuanet (via Slam), Yao expressed concerns about how far he can come back after a serious foot injury that sidelined him all of last season.
"I have no idea if I can return the peak of my form," the seven-time All-star center told China Daily in an exclusive interview on Wednesday in Beijing. "I have not been tested. I have not played competitive basketball since the injury even in the training. I cannot answer if I will return to my best."
 
Yao also admitted he can hear the clock ticking on his career.
"I know I will retire one day. My career will end sooner or later. Even if I can play until I am 36, I have to accept that fact," he said. "The only problem is that 30 is the golden time for an athlete, but for me it's sudden death and I find it hard to accept that."
In an age of false bravado, Yao's candor is a welcome change.
Yao remains the key in Houston. They have good players around him now — Aaron Brooks and Kevin Martin, Shane Battier, Brad Miller, Luis Scola and others — but Yao is the anchor. He is the player that nobody else can match when healthy.
If he is healthy, and anywhere near his peak, the Rockets become maybe the biggest threat to the Lakers in the West. But that is a lot of weight for his fragile feet to carry. And Yao knows it.