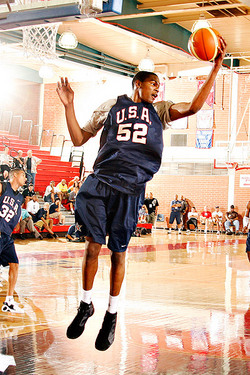 After Thursday's practice, Team USA coach Mike Krzyzewski talked about how the players on this team have to get used to the more hockey-like shifts they take — three or four minutes of run at a time, keeping guys fresh.
Except Kevin Durant, he's getting 10-minute shifts, as John Schuhmann noted on the Hang Time Blog.
We don't know a lot about Team USA but we do know this — it is Kevin Durant's team. He is the face of this squad. He comes at that job in a quieter manor than LeBron or Kobe or even Jordan, they guys we're used to seeing as leaders. But don't mistake that for passing the buck. This is just who Durant is, as he said to Chris Sheridan of ESPN:
"I doubt I'm the next face; I'm just another guy helping to bring a gold back to the U.S. It's been a dream of mine since I was a little kid," Durant said on what turned out to be a rough first day of minicamp for Team USA.
Quiet or not, he is going to be the designated scorer. Schuhmann noted that in a late scrimmage against top college players, Durant destroyed them.
Durant said afterward that he's been holding back a little offensively, but for that last 10 minutes, the staff told him to be more aggressive. And he clearly was, scoring 14 of his team's 26 points, and also dishing out two assists.

Six of the points came on catch-and-shoot threes. Two came on a pull-up, foul-line jumper off a curl screen. And the other six came at the free throw line after aggressive drives into the paint.
Durant is one of those guys whose game will translate well to the international game because his game would translate anywhere. He is just a flat out baller. And while he may be a different style of leader, looking at what has happened in Oklahoma City, it is pretty effective.