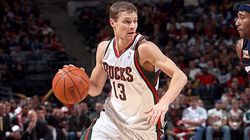 Luke Ridnour could start for the Minnesota Timberwolves at point guard next season. He's certainly going to push Jonny Flynn.
On that level, the Ridnour signing by Minnesota — made official on Wednesday, for four-years, $16 million –is a good one.
I like Ridnour, like his game. I just keep trying to figure out the grand plan in Minnesota, and it makes my head hurt. I need to stop it.
This signing that gives the Timberwolves three point guards on the roster right now, don't forget Ramon Sessions. The Timberwolves are reportedly shopping him around so they are down to two points.
Well, still three if you could the best of the group, Ricky Rubio, who is playing for Barcelona for at least one more season.
I thought the Timberwolves brought in Kurt Rambis to run the triangle offense? It's an offense that doesn't need a strong point guard, rather it needs attacking wings. The Wolves had to modify — or abandon — parts of the offense last year because the personnel didn't really fit it.
Ridnour is a better fit for the triangle than any of the others, not perfect but better. So maybe he does get the starting nod, something he would like, he told the Star- Tribune.
"It's something I wanted," he said of the chance. "I wanted the fair chance to compete, not just for a starting role, but to get playing time. I'm at the point in my career where I've been through a lot. [But] I'm going to get better and better, even at my age. I'm excited about the opportunity to come in here and compete and play and help this team win games."
Win games? My head is hurting again.