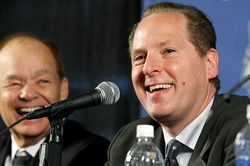 David Kahn is the king of unintentional comedy.
Remember back during Summer League, when Kahn sat down for an in-game interview with NBA TV and Chris Webber? And Kahn defended his signing of Darko Milicic by comparing him with Webber and asking Webber how long it took him to find his game in the NBA? That would be 17 and 9, Rookie of the Year Chris Webber. And it just got weirder from there. Ahh, good times.
That video became a bit of a sensation among basketball fans and was passed among friends at Summer League. Kahn went on ESPN 1500 Twin Cities today and this is what he said about Webber (as transcribed by the Star Tribune).
"He's kind of a schmuck, isn't he? Methinks that he spent a lot of time on NBA TV with a former Timberwolves person and he seemed to come into the interview with an agenda. Tough questions are fine, but I felt like was a little defensive about some of the things."
Webber was the schmuck? Webber was defensive? Does Kahn realize which one he was in the interview? Did Kahn really use "methinks" in an interview? Wow. I bet the sky is a really pretty shade of purple in Kahn's world. Personally, I thought Webber was pretty controlled through all of that.
Best part is, this wasn't even the craziest thing he said in that same interview. He's this funny, and he's not even trying.