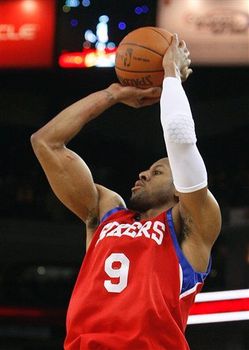 The Clippers have a pretty nice roster — Baron Davis at the point, Eric Gordon at the two, Blake Griffin as the power forward and Chris Kaman anchoring the middle.
What they lack is an attacking wing player at the three. They struck out not only with LeBron James but with all the big name swingmen in the free agent market, They drafted Al-Faroqu Aminu for that role, and while he looked pretty good at Summer League he did not look like a guy ready to step in and play a starter's role yet.
So the Clippers have turned to trades, asking about the availability of Andre Iguodala of Philadelphia, according to David Aldridge of NBA.com.
Iguodala would be a good fit, but he would also be an expensive one — he has four years and nearly $57 million remaining on his contract. The Clippers could offer Baron Davis, but Philly likely would not want the three years and $41 million he is still owned to get far less production. Kaman could fit the bill financially, but then the Clippers would be betting that DeAndre Jordan could step in and be their starting center.
These kinds of asks about availability happen all the time in the NBA, and they almost never amount to a trade.