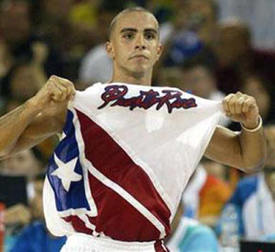 This isn't a huge signing for the Heat, although it does give them some much-needed depth in their backcourt. The 30-year old Arroyo has always been talented, but never quite lived up to the promise he showed during the 03-04 season and the 2004 Olympics. 
Arroyo is a gifted playmaker, capable of seeing angles that few other point guards can see and making bold passes without taking unnecessary risks. Unfortunately, Arroyo's scoring game has never been up to par, his defense is an issue, and he tends to dribble too much while looking to make a play. Because of all that, Arroyo has already changed teams seven times in his career. 
Playing alongside of LeBron James, Dwayne Wade, Chris Bosh, and everyone else in Miami will be an interesting test for Arroyo: will having great teammates around him allow Arroyo to flourish as a pure passer, or are Arroyo's bad habits impossible to get rid of at this point in his career? Only time will tell, but Arroyo is definitely more talented than most players available at a bargain-basement price.