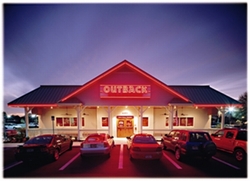 Reportedly, the folks at ESPN wanted LeBron James to hold off on his decision until the day of the ESPY's, so that one ego-stroking event could lead into another. Fortunately for all of us, the realities of the marketplace made that impossible.
The ESPY's had to settle for parody — Steve Carell's decision to take his appetite to the Outback Steak House. When asked about how this would impact the people at Chili's, Carell said, "We had a good run at Chili's, and in a perfect world I would be eating at Chili's constantly, but tonight there's no rules, just right. Outback Steak House."
The people at Chili's have a sense of humor — they released a letter from the company president, in Comic Sans font to Carell, echoing the Dan Gilbert letter.
"I PERSONALY GUARANTEE THAT CHILI'S MENU ITEMS WILL BE BOLDER AND TASTIER THAN THOSE OF THE SELF-TITLED 'STEAKHOUSE KING.'"

You can take that to the smoker.
Pretty clever little bit of promotion. And it's good to see that the entire "decision" can now be mocked in the name of business promotion. We as a nation are moving on. And eating out.