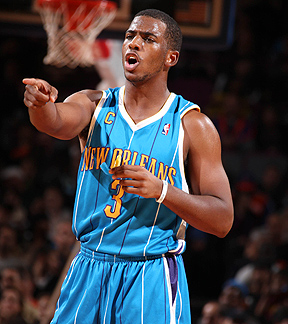 Dell Demps, welcome to your nightmare.
The brand new general manager of the Hornets is going to be met by Chris Paul trying to force his way out of New Orleans before the start of this season, according to Ken Berger at CBSsports.com.
He wants out," said the person, who has been briefed on Paul's strategy but spoke on condition of anonymity because he was not authorized to discuss it publicly. "He wants to play with another superstar. He wants to follow LeBron's model of teaming up with other great players."
Chris Paul sat and watched as Miami grew powerful, he has watched as Chicago got better, he watched as Los Angeles and Boston stayed good. All of those teams have stars teamed up together. Meanwhile he watched the Hornets go flat (in part due to his injury) and a terrible ownership situation that plays out like nobody is in charge.
Paul's agent is Leon Rose, part of the powerful Creative Artists Agency
that represents LeBron James, Dwyane Wade and Chris Bosh. That also
means the master of back-channel communications William Wesley is likely
involved. Bottom line, these are powerful guys who get big deals done.
Paul has two years left on his deal and the Hornets can afford to play
hardball and wait this out, if they trade him at all. If they did, it
would set the franchise back for years unless they got good young
players in return.
Demps needs to sit down immediately with Paul and his people, something
he has said he plans to do. Then he's got to do the sales job of his
life. The Hornets are nothing without Paul, he is their best player and
the face of the marketing campaign.
One other possibility: Remember the belief among most other teams that proposed Hornets buyer Gary Chouest asked now-fired general manager Jeff Bower to test the trade waters for Chris Paul? And how current owner George Shinn says he is not trying to trade Paul and fired Bower? And that nobody really knows who to deal with in New Orleans right now? All of this could be a push and play between the two men in negotiations, trying to pressure a sale one way or the other.
Or maybe that screwed up ownership situation was the last straw for Paul. 
If he's available, just about everybody would make a run at him, but Berger says there is a list already.
Paul's list of preferred destinations consists of the Knicks, Magic and Lakers, and members of his inner circle already have sent word to the Hornets of his desire to be traded to one of those teams, sources say. If Paul has his way, he's played his last game in a Hornets jersey.

"He feels like they haven't put the right pieces together," said the person familiar with the star point guard's plans.
 What about the teams on Paul's list?
The Lakers don't make a lot of sense, unless Los Angeles is willing to give up a player like Andrew Bynum or Lamar Odom and filler to make the money work. The Lakers are already at the top of the league in payroll and Jerry Buss is not looking to take on more. Plus, the triangle offense the Lakers run does not call for a strong point guard in it. In fact, the opposite is true. Paul to LA only works if Los Angeles is planning to make radical changes after winning back-to-back championships and with their core locked up. They are not, by the way.
Orlando has already made a run at Paul during the "he's available/no he isn't" game the Hornets and their ownership played earlier this summer. They offered Jameer Nelson as the heart of a solid package, but they could also throw in bigs like Brandon Bass or Martin Gortat. The Paul/Howard pick and roll would be the best in the league from day one.
CP3 may really want to be in New York — teaming up with Amare Stoudemire and running the Mike D'Antoni offense that Paul is perfectly suited for. Plus, expect the Carmelo Anthony to NYC speculation explode like… well, LeBron rumors. The Knicks have prospects like Raymond Felton they could send to New Orleans, but it would be Dec. 15 before they could make that trade.
Another team to watch is Portland, which was reportedly close to a deal a couple months ago, until the Hornets ownership sobered up. But they would gladly jump back in the mix, they'd just have to convince Paul to go there.