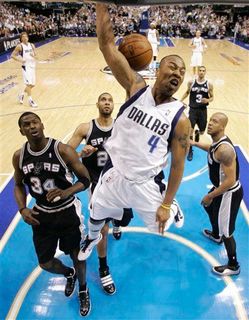 Have it your way, Caron Butler.
There are few more interesting people in basketball than Butler, who came out of a tough background — he sold drugs at one point — to be one of the more socially conscious guys in the league. A guy who goes back home to Racine and donates time and money to causes every summer. One of the more likeable guys around, too.
That background included working at a Burger King for a while, he told Gery Woelfel at the Journal Times.
"I once worked at Burger King in Racine," Butler said. "I know the business. I know it from the janitorial spot all the way through the management side. I know that game inside and out."
So he went out and got six for himself. Not Whoppers, Burger Kings. He owns six of the fast food restaurants now.
Butler said he is also taking a business management class at Duke this summer. And if you want to learn about business, Mavericks owner Mark Cuban is a pretty good guy to bounce ideas off of.
It's a great investment. As long as Butler isn't eating every day at those BKs. That's not how to stay in shape in the off-season.