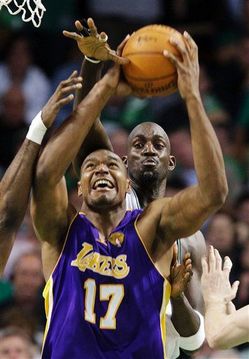 It's pretty amazing Andrew Bynum's knee doesn't have its own twitter account.
Behind the wildly popular and South Beach-bound elbow of LeBron James, no other body part was more discussed during the playoffs. Bynum admitted during the playoffs he was going to need surgery to deal with the
That surgery is now set for July 28, according to the Los Angeles Times. Bynum had said he planned to have the surgery July 18, but this turned out to be the first day the surgeon was available.
He is supposed to be ready to go by the start of Lakers training camp in late September.
Bynum hyper-extended his knee in the first round of the NBA playoffs against Oklahoma City. That led to a torn meniscus in the knee. Bynum played through the pain, having fluid drained out of his knee several times during the playoffs.
After the season he went to the World Cup in South Africa and is currently bouncing around Europe on vacation. However, we feel pretty safe saying he is not backpacking it and staying in youth hostels like most kids his age.