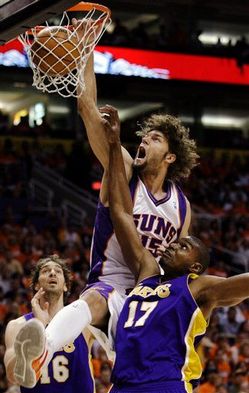 Hey you. Yes, you. Want to play center for Team USA at the World Championships?
If another players drops out, your phone just night ring. Center Robin Lopez dropped out just at the start of camp so he could do private rehab on the back injury that kept him from being effective during the playoffs. He joins Amare Stoudemire as last second bailouts, in Amare's case because the Knicks said they couldn't get insurance for him (you can decide for yourself how hard they tried).
Chris Tomasson of FanHouse had it first and also talked to Robin's brother Brook, who is by far the best center left on the roster.
"I think it's just a precaution. His back is doing fine. Just precuationary."'
So you'll see Brook Lopez starting at the five for Team USA, with JaVale McGee and what's left of Tyson Chandler's knees as the backups. So, look for Team USA to use some small lineups with David Lee or Kevin Love at the five spot.
There are no players from the 2008 gold medal team in Beijing on the USA Basketball team headed to Turkey for the World Championships.