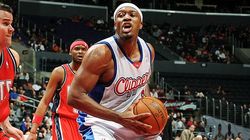 Craig Smith is solid, reliable, a guy who is physical and will battle inside night in and night out.
Consistency seemed like a novelty to Clippers fans last year, so they latched on to Rhino. He was a fan favorite late in the year, and now they get him back for another season.
Craig Smith's agent has said he has signed a one-year deal with the Clippers, according to Lisa Dillman of the Los Angeles Times.
Smith will come off the bench behind Blake Griffin (you'll remember soon enough that he can really play) and give the Clippers a steady presence inside. He gave the Clippers nearly 8 points and 4 rebounds a game in 16 minutes.
Good signing for the Clippers.