There's a reason the Miami Heat made sure to snatch up Mike Miller. Or that Chicago went out and got Kyle Korver. Or that Orlando chose to match an offer for JJ Redick.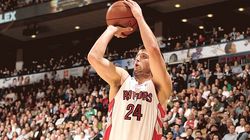 Great shooters are hard to find.
Which is why Philadelphia will likely find interest in Jason Kapono, who they are shopping around according to Marc Stein of ESPN. Kapono also is in the last year of his deal, worth $6.6 million.
Kapono was down to 36 percent from beyond the arc last season and saw his minutes drop because apparently Eddie Jordan is not that into shooters, but he is a career 44 percent shooter from deep. Teams with penetration guards who want to spread the floor can still use him.
Philadelphia can use him, too. But they seem to be testing the waters to see what kind of offers roll on shore.