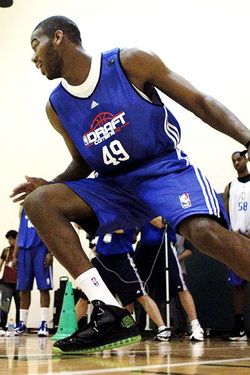 Greg Monroe was not blowing anybody away at Summer League in Las Vegas — well, at least until that 27 point, 14 point performance in his final game. The good news for Pistons fans is the raw rookie got better as the week went on.
But now there is a minor setback, as he is about to undergo minor foot surgery, according to the Detroit Free Press. He is expected to be fully ready for training camp.
Everyone knew Monroe was going to take some work, but the important things for Detroit fans is the Pistons coaches were happy with his progress, as assistant coach Pat Sullivan told the Free Press last week.
"Usually, by the fourth game out here (in Vegas), you get leg weary, so it was good to see Greg get to the basket and make strong moves to the basket and making some strong post moves. There were a couple of times he took the ball full court off the board and went coast-to-coast."