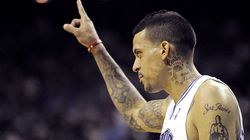 UPDATE 9:17 am: Matt Barnes is not going anywhere. Yet.
The deal announced by Barnes himself on Twitter is now dead, according to Adrian Wojnarowski of Yahoo. The reason is a miscalculation by the teams on what could be spent. Nice. Somebody forgot to carry the one and look what happens.
It puts Barnes back at square one. He has offers — a bunch of contending teams want him but for limited minutes at a salary of less than $2 million a year. He wants more money and more minutes. So he keeps searching.
1:37 am: Contenders wanted Matt Barnes to come in and play a role. Orlando, Los Angeles, Boston.
Barnes wanted minutes. He wanted more money.
Toronto came through, offering two years at $9 million in a place he will get a lot of burn. Barnes said on his twitter he was going north.
Nxt season I will b playing for the Toronto Raptors. I wanted to thank the fans in orl you guys were amazing the way u guys excepted
Except it's not that easy and it's not that done, according to Marc Stein at ESPN (and Brian Windhorst of the Cleveland Plain Dealer).
Primarily because Toronto cannot offer Barnes $4 million next year, they gave most of their mid-level exception to Linas Kleiza. Toronto reached out to Orlando about a sign-and-trade, but Orlando only has partial Bird-rights (they only had him for one season) and can only offer about $2 million next year.
Orlando and Toronto officials will talk again tomorrow, but they will have to be very creative to find a way to make this work.
If not, Cleveland may step up for Barnes. Or one of the contenders, who are still out there lurking around, hoping Barnes falls to them.