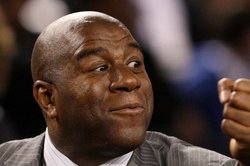 Times are different.
LeBron is teaming up with Dwyane Wade and Chris Bosh. Michael Jordan said the other day he wouldn't have done that, he wanted to beat Magic Johnson and Larry Bird, not partner with them. Not everyone — including our own Ira Winderman — buys that.
But Magic Johnson said he agrees with Jordan.
"We didn't think about it 'cause that's not what we were about," Johnson said at Baruch College in New York, according to Bloomberg News. "From college, I was trying to figure out how to beat Larry Bird."
Let's also be fair here — Magic didn't have to.
He was drafted onto a team with Kareem Abdul Jabbar near the peak of his powers, one of the greatest centers and offensive weapons ever to play the game. That team also had sharp-shooter Jamaal Wilkes, Norm Nixon and Michael Cooper among others. Pretty soon the Lakers added guys like Bob McAdoo and a few years later drafted James Worthy (thanks to a steal of a trade).
Magic didn't need to join forces, he was drafted into a powerhouse lineup. Bird had McHale and Parrish. Jordan was not alone — Scotty Pippen and a host of perfectly complimentary role players.
Nobody wins a title alone. You can debate if you want whether LeBron should have waited in Cleveland for them to build a roster around him, but nobody — not Magic or Bird or Jordan — would have won a title with the rosters LeBron has had.