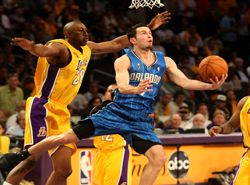 J.J. Redick's gradual development has finally paid off, as the Orlando Magic will pay him $19 million over the next three seasons. However, there's obviously something to be said about Redick signing an offer sheet with the Chicago Bulls in the first place; while J.J. does seem legitimately happy to return to Orlando, he clearly sees himself as something more than a reserve.
"I think I can start on a lot of teams. I don't think I'll start on
this team (now), and I'm OK with that," Redick said Monday, according to the Associated Press. "I'd be
lying to say that I don't want to start at some point."
That 'some point' could have been now had Redick landed in Chicago, but as it stands, J.J. will likely come off the bench behind a giant paycheck named Vince Carter. VC has his moments, but as he continues to decline and Redick gets better and better, one can't help but wonder if Carter's status as a former star will be enough to help him hold onto the starting job.
Redick already looked like he may be the better overall player in last year's playoffs, but Carter has another year left on his deal and will be expected to perform like his second billing suggests. He won't, but his mere presence denies Redick what he could have had in Chicago.