He had hinted at this before and said he was still thinking about it, but Dirk Nowitzki made it official today: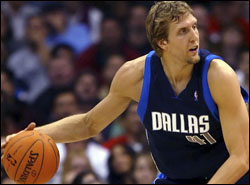 He will be skipping the FIBA World Championships next month (as reported at Dallasbasketball.com).
"I have signed a new contract with the Dallas Mavericks," Dirk said in making the announcement. "We have a new team with new conditions and I want to set my focus on the next NBA season this summer."
Mavericks owner Mark Cuban has never been a fan of his players spending their summers playing for national teams, then coming into the NBA season a little drained. With the Mavericks, they need a fully rested team to make a run at the Lakers, and that is not a big window (Nowitzki is 32).
Nowitzki did say he would play for Germany next summer as it tries to qualify for the Olympics.