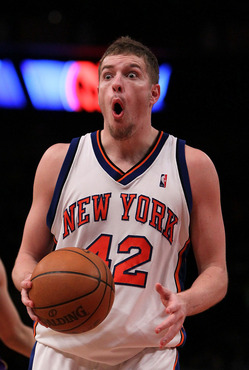 UPDATE 8:09 pm: ESPN got a quote from Lee himself, and it doesn't sound good:
"I looked down and my finger was completely turned to the side," Lee
said. "It's possibly a tendon or a dislocation of some sort. It's
something I've got to go have looked at either way.
6:38 pm: The biggest fear for teams with players representing their country this summer in the World Championships? Injuries.
David Lee had made the Golden State Warriors new owners sweat a little. He injured the middle finger on his right hand during practice. He is on his way to the Bay Area Tuesday night to have the finger examined by team doctors, according to Chris Tomasson of FanHouse.
"I hope it's not that serious," said Team USA coach Mike Krzyzewski. "We'll get him back (Wednesday) … I don't know exactly what happened (as to how Lee got hurt). I just know the result of what happened … Something happened right here (pointing to his finger) that he has to keep it straight. And I don't know if he'll be able to play. I don't know."
The injury is to Lee's non-shooting hand (he is a lefty).
Team USA wants him back, they are already low on big men. Amare Stoudemire backed out in the last few days as did Robin Lopez earlier in the day. The USA needs some big bodies who can bang around inside during the more physical international tournament. (International referees allow far more contact inside than NBA referees are instructed to.)