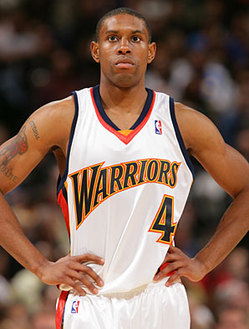 Chicago now has its backup for Derrick Rose.
The Bulls will acquire C.J. Watson in a sign-and-trade with the Golden State Warriors. Watson will get three years, $10.2 million, and the Warriors will get a second round pick and a thinner bench. The Warriors had the right to match the offer but have chosen to work out a deal instead.
Watson was one of the seemingly endless parade of great D-League finds by the Warriors. Last season he gave the Warriors 10.3 points per game shooting at a solid 46.8 percent. He was a quality backup who could make a few plays and not turn the ball over a lot. Except against Sacramento, when he would drop 40 and look like an All-Star.
The price of a little over $3 million a year for someone who can give Rose some rest seems fair.
As for Golden State, who are they bringing off the bench now at guard? Charlie Bell and Reggie Williams? I love Reggie Williams, he tore it up at Summer League. Bell is going to be solid. But neither is a point guard, and the Warriors need to find another guy to play that role. But it all comes back to what kind of point guard will you need under the system put in by the new general manager and coach that are surely coming with the new ownership? Got to answer the big questions before getting to the backup point guard one.