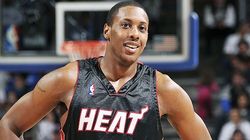 Mario Chalmers is a nice backup point guard. Yes, his shooting regressed his second year in the league, and yes he turns the ball over more than you'd like. But he's a nice player. And because he's on a cheap rookie contract, he
He's your new Miami Heat starting point guard.
When you hear people are skeptical that the Superfriends can win a title in Miami, it is things like this that are why. It's not what Dwayne Wade, LeBron James and Chris Bosh can do; it if the supporting cast can support them at all.
Chalmers is going to get his chance. Wade told the Miami Herald he wants Chalmers to start at the point.
"I've always played a lot of point guard," Wade said. "I just don't want to be labeled as a [point guard]. It's Mario's job to lose, if you want to say. I'm not going to try to take it from him. He can have a great impact on this year.

"Defensively, he's great, he's good. He'll be even better with the guys behind him. Hopefully, [he has] become more of a consistent shooter. He's going to get a lot of looks. I've told him there are a lot of shooters I've gotten paid around here."
Chalmers took 52 percent of his shots from three last year, and he hit a disappointing 31.8 percent of them. His midrange game is shaky. He can do pretty well getting to the rim, but on a team with Wade and LeBron his role is not to be the guy driving the lane.
Veteran Carlos Arroyo has never been a great outside shooter, either, but he will be the man if Chalmers can't play the role.
Chalmers has to knock down jumpers. Joel Anthony has to defend the rim. Jamaal Magloire has to not look old. There are things that have to happen beyond the big three for the Heat to win the title. Those other players will get chances, they just can't screw them up.