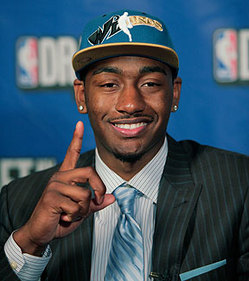 What did I like best about John Wall after watching and interviewing him at Summer League? He gets it.
Sure, he was named outstanding player of the Summer League with good reason, but that's not it. He gets basketball. Really gets it. There are plenty of talented players coming into the league that don't get it. It takes them years to figure it out, or they never do. Wall already has.
One simple example: I was watching part of a Wall game while talking with the lead assistant coach of another participating team, and when asked what he thought of Wall he said he wouldn't be blown away until he got a jump shot. The idea is that he becomes a young Rajon Rondo – a guy you can control if you can force him to take jumpers.
Wall was taking jumpers — his form and balance are good, he fades away a little too much but his flaws were easily correctable (good breakdown at NBA Playbook) — however not hitting them consistently at all. Despite the fact he got to the rim any time he wanted and had plenty of layups he shot just 37.7 percent from the field and was 1 of 8 from three for the league.
Washington Summer League coach Sam Cassell was not exactly encouraging him to take jump shots, either.
"In the first quarter he was settling for jump shots, and when you are 6'4″ with that kind of speed you don't have to settle for jump shots," Cassell said after the final Wizards game Wall played in. "He can get to the hole at will."
But Wall gets it. He knows he needs that weapon.
"I've been working on the mid-range, that is the shot they are going to give he coming off pick and rolls," Wall said. "You know, like Derrick Rose, he worked on his (after his rookie year) and came back able to make them. I want to go into my rookie year and make the shot."
Wall already knows how to use his speed to create some space to get the jumper off. He also has a fantastic hesitation dribble where when the defender steps up to take away the jumper he blows by then and is at the rim.
Don't get me wrong — Wall should not be taking a lot of jumpers. The Wizards need to get out and run because Wall is flat out devastating in transition. Everyone talks about Wall having a Rose-like game, but there is some Russell Westbrook in there as well. Wall is so fast in the open court with the ball that he can get to the rim or get a good kickout almost every time. He can play at a speed few others can. He will enter the league as one of the fastest guards with the ball there is.
But a good game has to be balanced. There has to be more than just slashing, or you can be defended.
Wall gets that. He gets the game