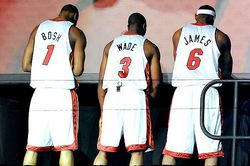 In Cleveland, LeBron's posse had the run of the place. They were VIPs in the arena and in the city. Some of his friends even got jobs within the Cleveland organization.
It is rumored that one of the things that really hurt Chicago in talks with LeBron James was a clear line in the sand from Bulls owner Jerry Reinsdorf on just that — if we didn't give Michael Jordan's friends all jobs, we're not doing it for you. It may or may not have been a big deal with James himself, but you can bet the friends that have his ear talked to him about it.
In Miami, Wade met with members of LeBron's inner circle a couple of times, according to a long report on the inner workings of LeBron's decision by Adrian Wojnarowski of Yahoo.
If jobs were promised to LeBron's friends, the NBA may investigate, he reports.
"The bigger issue is salary-cap circumvention," one top NBA front-office executive told Yahoo!. "You can't promise jobs or preferential services outside of a contract or a job for a friend. If that's part of the deal, it's a violation."
It's also very, very hard to prove. These friends had jobs in the Cleveland organization, or may have other skills the Heat can say are useful to them in whatever capacity. If a person had a job with one NBA team, it will be very hard to legally prove they were hired by the Heat just because of LeBron.
That is just one of the interesting tidbits from Wojnarowski's opus. It is long, it has a lot of details, and it is worth reading.
It is also worth taking with a grain of salt. While Wojnarowski is as plugged in as any reporter out there, nobody has the entire picture. Nobody has all the people on the inside of the decision talking. The report talks about how LeBron, Dwyane Wade and Chris Bosh came up with this idea at the Beijing Olympics two years ago, but other people who traveled with the team said that while the three talked they were really in different cliques of the team much of the time. We could try to poke holes in other parts of the story as well, but nobody really knows. Again, just read everything with a critical eye.
Three other things of note. One is saying that current Heat coach Erik Spoelstra has to win a title this season, or he will be gone.
Nevertheless, the pressure on Spoelstra to win a championship in 2011 promises to be immense. To keep his job, he'll probably have to win it all, especially because Riley has his eye on Doc Rivers to someday coach the Heat. Rivers has one year left on his Celtics contract, and has been heavily affected by the distance between him and his family still living Orlando.
I'm not sure I totally agree — what matters most this first year is that he gets total buy in from all three stars. That he gets them really working together. I can see a scenario where he does that and they still don't win a title — because Joel Anthony is not a center who can stop Dwight Howard or Andrew Bynum deep in the playoffs, for example. It may take another year to get all the pieces around the big three to make it really work.
Another was just how big an impression Riley made on LeBron. How it was Riley that brought this deal together.
Riley never did pitch James on his own return to coaching, and yet bringing those five championship rings into the meeting were his way of selling James on the fact that Riles' prints would be all over the team. No other basketball executive in the process could tell James they understood what a title team needed, what it looked like and how they had already done it like Riley could. Riley had such credibility, such presence and he completely captivated James.
That I believe. Riley does carry that aura.
Finally, there was the other reason Chicago fell out of favor — Derrick Rose.
For everything the Bulls tried to sell – from owner Jerry Reinsdorf to GM Gar Forman to coach Tom Thibodeau – there had been one thing that troubled James' about the Bulls pitch: Derrick Rose(notes) never called and tried to recruit him.

Chicago officials never directly requested Rose to reach out with a call, and the young point guard felt James could've always reached out to him had he wanted to discuss the possibility of playing together. James needed to be courted, needed to be wooed and apparently it surprised him there was a star who wasn't falling over himself to do that.