UPDATE 7/16, 11:40 am: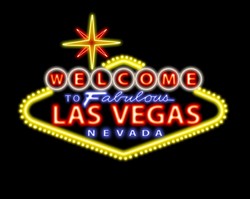 Well, you can cross the Detroit Pistons off the list (and they were the team mentioned in the original article. The Pistons released a statement on this issue:
"Our ownership group has absolutely nothing to do with any proposal that would move the team to Las Vegas."
As we said, Detroit makes little sense anyway, as the owner has both the team and the building they play in. To split them up and sell those two independently would lower the value of both. They will be sold as a unit (and not moving).
7/15, 3:26 pm: An NBA team moving to Vegas?
Players love the idea. The NBA itself is lukewarm on it but money talks and if a new state-of-the art arena were built and could generate enough revenue it would likely lure a team. Money would buy off all the moral qualms. Man, isn't capitalism grand?
An investment group in Las Vegas trying to get an arena built (International Development Management LLC) says it has an NBA team "under contract" to sell if they can get help financing an area from the city through tax increment.
What team? We've been asking that around Summer League in Vegas.
And more people think this is an overstatement by the investment group than it is an actual deal. Most people we spoke with were not very familiar with the group or the story (and these people follow these things if they are serious).
Nobody knows for sure, but more people here think the group got a "we agree to have a serious conversation with you if you get your arena built" rather than any kind of agreement to sell.
International Development has motive to overstate its case — they are trying to get public financing build an arena (through tax increment, read the story here) in a political climate where that is very unlikely in Las Vegas. Having a deal with a team would give the plan a boost (and even then likely not enough of one). So saying there is a deal even if it isn't that much of a deal makes sense.
Still, what team could it be?
What we do know it is not the Sacramento Kings. Despite what one email promoting the original story in the Las Vegas Sun was saying, the Maloof brothers are not the guys. Yes, they own the Palms hotel and are Vegas people, but they are set right now. Here is what Joe Maloof told the Sacramento Bee:
"No," Maloof said. "I don't even know what that (deal) is."
The team speculated about in the original story is the Detroit Pistons. And they are for sale, owner Karen Davidson wants to sell the team as she took over when her husband Bill died. Bill was passionate about the Pistons, Karen not so much. She said she hoped to have the team sold by the end of the summer.
But she owns both the Pistons and their building, the Palace at Auburn Hills. She could break them apart and sell them separately, but their value goes down. Most bidders will want both. A Las Vegas investment group would not (the value of the building would fall once the Pistons were out). It just seems unlikely.
Sources speculated some about maybe it being New Orleans or Minnesota, but then said those were just kind of teams where the owner might sell. George Shinn is New Orleans is actively trying to sell but is supposed to have a buyer and deal (plus pulling a team out of New Orleans now could be very bad Karma). Indiana is a name that came up, but they just struck a deal with the city to stay. Buy the Pacers now and you can pay a $30 million premium to leave.
Bottom line, not a lot of the execs in Vegas were not very familiar with the story or the investment group. Which made them skeptical of the entire thing.