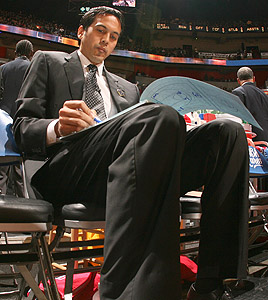 Unsurprisingly, Miami Heat head coach Erik Spoelstra does not plan to give up the chance to coach LeBron James, Dwyane Wade, and Chris Bosh in Miami next season. Spoelstra's father is involved with the ownership group than recently purchased the Golden State Warriors, but Spoelstra told our own Ira Winderman that his father has no effect on where he'll be coaching next season:
"My Dad worked for Mandalay Sports and worked for Peter Guber for a long time," Erik Spoelstra told the Sun Sentinel, "but this is a separate deal…

…My father's having a good time in semi-retirement right now, writing books," he said. "He's never brought it up."



Blood may be thicker than water, but expecting Spoelstra to walk away from the opportunity he has because his father now owns a part of a team that went 26-56 last season is a bit unrealistic.