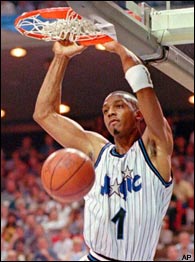 Anfernee "Penny" Hardaway last stepped on an NBA court three seasons ago. And he wasn't good at all in the 16 games he played. He hasn't done anything of quality on a court since 2004. It's been a decade since he was good (and if you go back 15 years he was very, very good).
Now he wants to come back and play for the Miami Heat. At age 39.
That's what he told the guys at the Bottom Line Sports Show on Blogtalk Radio (skip ahead to the 29 minute mark for the fun). CNBC's Darren Rovell called this "a guy who says he's Penny Hardaway," so there is your grain of salt with this.
But it makes sense he wants to come back and help fill out the roster for the Heat. He's chasing a ring, Miami is now a good place to get one.
By that same token, I want to submit my resume to Pat Riley to take a vets minimum spot on the roster. I'm six foot, a little slow, but with solid shooting touch out to 16 feet. Pretty good passer, as long as the defender doesn't have long arms or is quick. On defense I can pick up fouls as quickly as anyone you have ever seen.
I can help the Heat as much as Penny can at this point. So I want in.