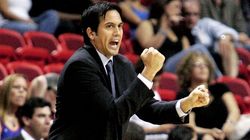 Here's what Warriors fans know: The Golden State Warriors have new owners, who will take full control of the team in a couple months.
Here's what Warriors fans hope: That there are big changes in the front office, that a new coach and a new direction come with the new owners.
Here's some fun but wild speculation for Warriors fans: They might go after Erik Spoelstra.
Matt Steinmetz started this fun little game at CSN Bay Area. And there are some facts to start as a foundation.
One of the new Warriors owners is Peter Guber, Hollywood guy and CEO of Mandalay Entertainment Group. Jon Spoelstra is the vice chairman of marketing for baseball properties for Mandalay. He has a long history with those guys and the NBA.
Jon is Erik's father. So if the Warriors fire Nelson and go looking for a coach…
Of course, the younger Spoelstra already has a job as head coach and ego babysitter for the Miami Heat. Not a job he is going to leave. Willingly. But Pat Riley has already kicked one very good coach to the curb when the team looked like it could win a title. So might he do the same thing to Erik, leaving him a coaching free agent?
That is a whole lot of ifs. Riley is not likely to return to the bench again, and the players like and respect Spoelstra. And how fast the Warriors let go of Nelson may depend on how fast the sale goes through — if the season has started to you make a change then and could you get anyone you really wanted then?
Probably not. But it is fun to speculate.