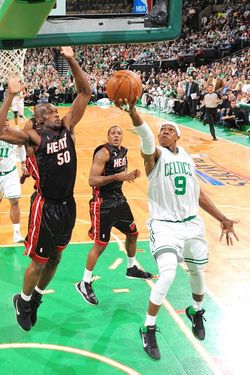 It's the question a lot of basketball people were asking after Miami pulled off the LeBron/Wade/Bosh coup: Who protects the rim on defense? Who is your real big man?
The answer: Joel Anthony. And Dexter Pittman is in there too.
Miami re-signed Joel Anthony to a five-year, $18 million deal, according to our own Ira Winderman, writing for the Sun Sentinel. Second round draft pick Dexter Pittman — a real big body — also inked his deal with the Heat and will make the roster.
And those are not the only big men the Heat will get, Winderman says: Zydrunas Ilgauskas and Juwan Howard will have deals done in the next few days, and Jamaal Magloire also will very likely get a deal.
Anthony may well be the opening-night starter at center, he's a defensive specialist and with this roster that is what is called for. Although you can bet everyone from the paragraph above will get their chance to lay claim to the five spot.
Anthony played 16.5 minutes per game last season coming off the bench for the Heat, and spent most of those minutes hunting for blocks. Miami needs him to play like a starter now. He's undersized for the center spot at 6'9″ but he likes to be physical inside. Miami needs that. Anthony isn't much of a scorer. Which is fine, Miami doesn't need that.
The Heat need Anthony to do the defensive and rebounding dirty work because
Chris Bosh is not a real center. He can't physically bang with the
Jermaine O'Neals and Dwight Howards of the league. Think of him like Pau
Gasol in this sense: You can play Bosh at the five, but he is most
effective and the biggest matchup problem as an oversized, skilled four.
Dexter Pittman is a big body — too big a body. He's listed at 6'11" and 308 pounds.
David Thorpe, the player development specialist and Executive Director of the Pro Training Center (plus ESPN writer) said that Pittman has the athletic side of the game down but not the body. He has shown that athleticism and some nice skill in Vegas at Summer League. But he is so big he is getting out-quicked by more fit players — and the NBA is quicker than Summer League.
He needs a pro body, not a college body, Thorpe said, maybe needing to drop 50 pounds or more. He also said he is betting Miami's staff can help get him there by the start of the season.
There is precedence — DeJuan Blair reshaped his body like that last year (with the help of Thorpe) and he went on to have a very good rookie year. Blair was a second round steal that had fans of a number of teams asking, "why didn't we draft him?" (Well, the fact he had no ACLs also scared teams off).
Pittman can be that guy this year, if he makes the same commitment to getting in shape.